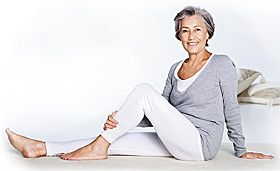 Hormonal yoga therapy was created by Dinah Rodrigues in 1992. Many women suffer from hormonal imbalance sympthoms and diagnosis. Hormonal yoga therapy brings a holistic approach of this subject, working the physic and energetic bodies.
Hormonal yoga therapy is a natural treatment along the line of energetic yoga, for hormone problems. It is based on hatha yoga, kundalini yoga and Tibetian work with the energy. It has special exercíses to reactivate hormone production and, as a consequence, it eliminate most symptoms of hormonal imbalance and menopause.
It also helps in the prevention of osteoporose and cardio-vascular deseases.
On the seminar, you will learn entire set of the excercises and pranayamas together with the special stress releasing techniques. Irena, certified hormonal yoga therapist, is teaching her hormonal yoga seminars mostly in Czech, but can adjust the seminar to be held with the English guidlines. Or you can order private session in English.